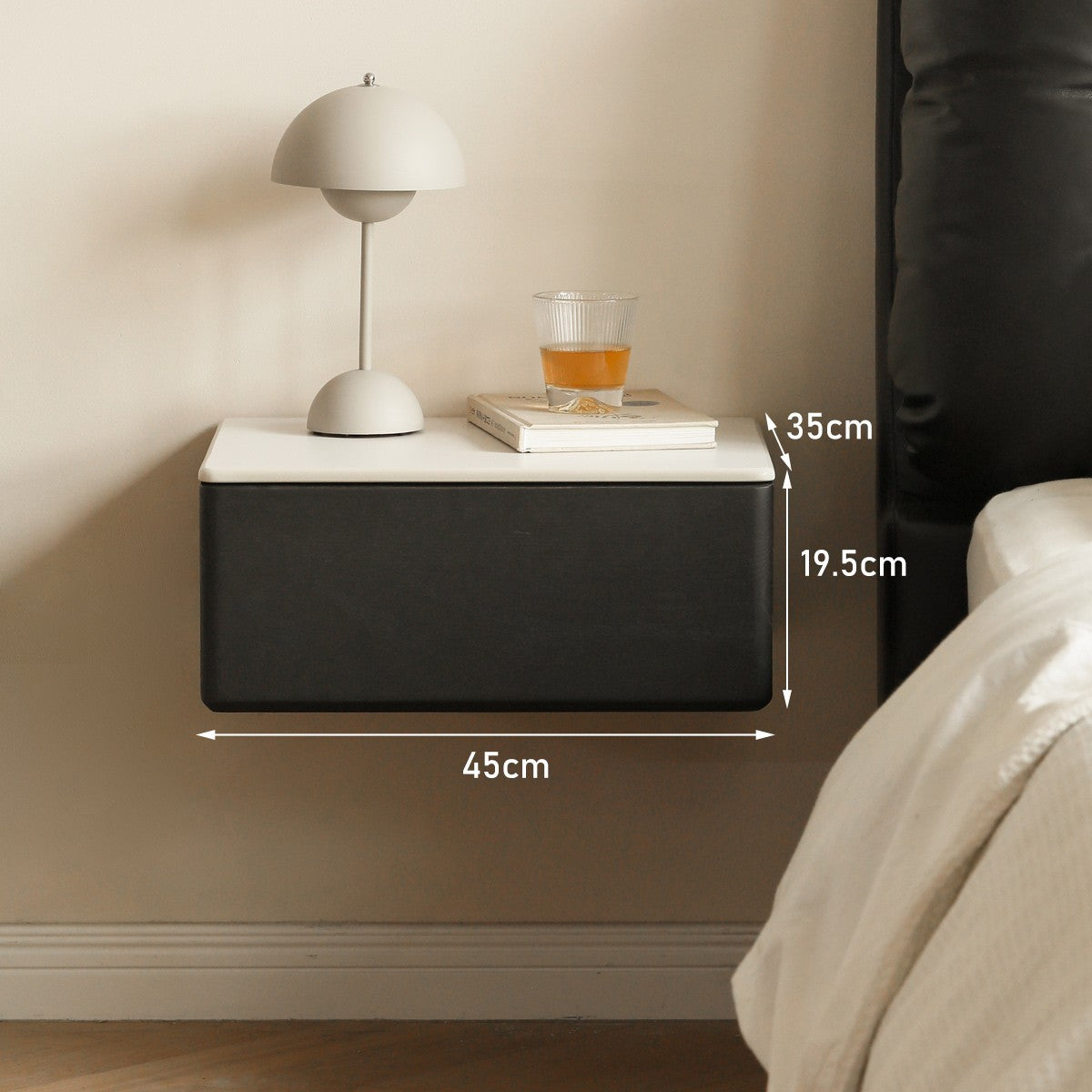 Slate top Suspension with light nightstand Poplar solid wood"
---
Polar white rock slab bedside table 16.2x12.3x7.7inch (41.2x31.2x19.5сm) 

Wall-mounted suspension, more space-saving.
Suspension design, no floor space, clean and no dead ends, suitable for storage.

Wear-resistant slate countertops, no need to take care of.
Selected polar white rock slabs, scratch-resistant/high-temperature-resistant/easy-to-care, superior performance and more worry-free.

Hidden light strip, small atmosphere expert.
One-button touch switch, the light is soft and not glaring, and it will not be dark when you wake up at night, and it will not disturb the people next to you.

Single drawer storage, easy to find.
The inner height of the drawer is 11cm, which can properly store trivial items beside the bed and is easy to take.

Ancient smoky color, more transparent texture.
Using Gris retro smoky paint, hand-painted on oak wood over and over again.
Wipe, let the color seep into the interior of the wood, thus revealing the rich wood grain levels, retaining
Wood grain touch.

 

The whole product is 100% pure solid wood, No artificial boards, no veneer, no finger joints, genuine goods at a fair price.
The main material is poplar imported from North America, with moderate hardness, not easy to mold, and good physical properties. Clear texture, fine structure,
3. The auxiliary material is paulownia wood, which is used for drawer box and back panel. ( для некоторых моделей) Corrosion resistance, wear resistance, high temperature resistance, no deformation, not easy to mold
paint: The original wood has undergone complicated manual color rubbing, the texture is clearer, and it presents a rich teak color, and then the clean-scented paint is use
Free shipping 5-6 weeks , Free return


The whole product is made up of 100% pure solid wood,- without any artificial boards, veneer, spliced boards, MDF, particle board, all natural
100% pure solid wood
simple and natural, healthy and environmentally friendly, stable and durable.
This product has no reviews yet.