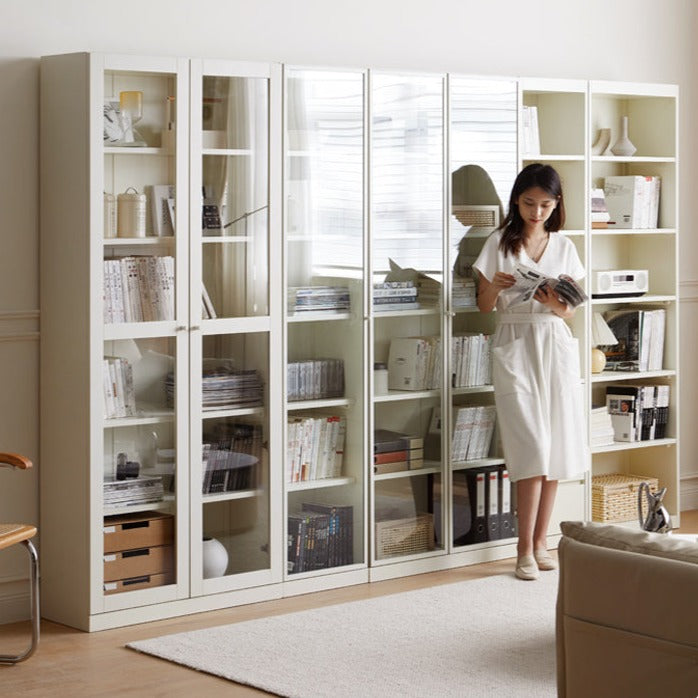 Glass door bookcase solid wood"
---
Full white lacquer finish 3C glass cabinet door tough and dustproof for easy handling
simple and elegant
Can be combined, can be used alone
Solve your storage problems

Simple and stable appearance
Simple lines, all white color, without losing details and beauty.

2.3c tempered glass
Fresh and visible, tough and wear-resistant, dust- and ash-resistant.

Large open compartment
The required items are visible at a glance, transparent and easy to take.

Six floors of exhibition space
One layer for books, one layer for ornaments... to hold your daily trivial matters.

More private drawers
Three-drawer storage, classified storage is more tidy.

___

The whole product is 100% pure solid wood, No artificial boards, no veneer, no finger joints, genuine goods at a fair price.
The main material is poplar imported from North America, with moderate hardness, not easy to mold, and good physical properties. Clear texture, fine structure,
3. The auxiliary material is paulownia wood, which is used for drawer box and back panel. ( для некоторых моделей) Corrosion resistance, wear resistance, high temperature resistance, no deformation, not easy to mold
paint: The original wood has undergone complicated manual color rubbing, the texture is clearer, and it presents a rich teak color, and then the clean-scented paint is use
Free shipping 5-6 weeks , Free return


The whole product is made up of 100% pure solid wood,- without any artificial boards, veneer, spliced boards, MDF, particle board, all natural
100% pure solid wood
simple and natural, healthy and environmentally friendly, stable and durable.
This product has no reviews yet.