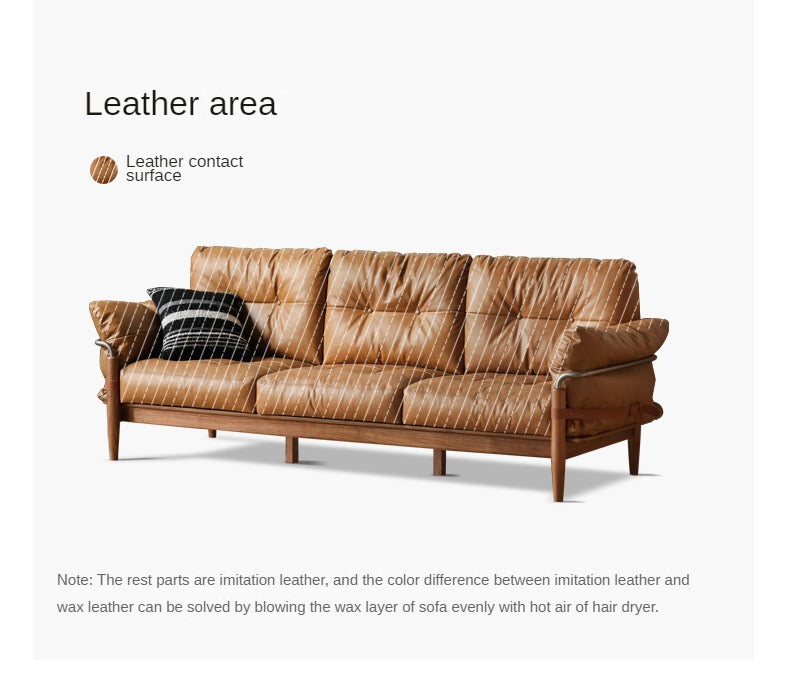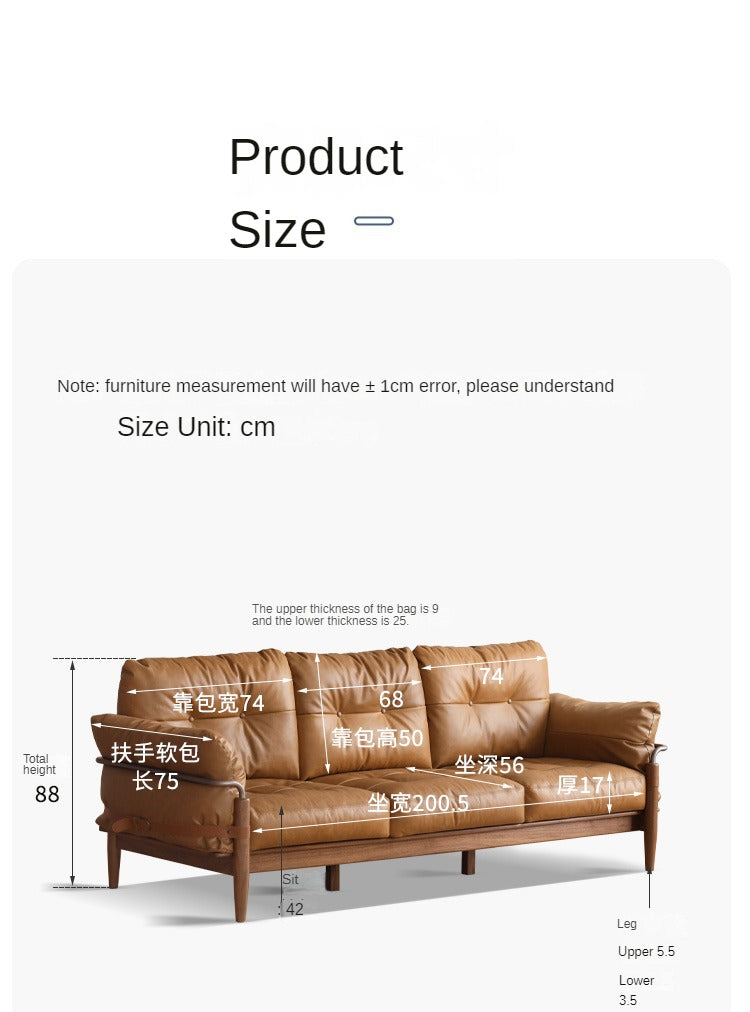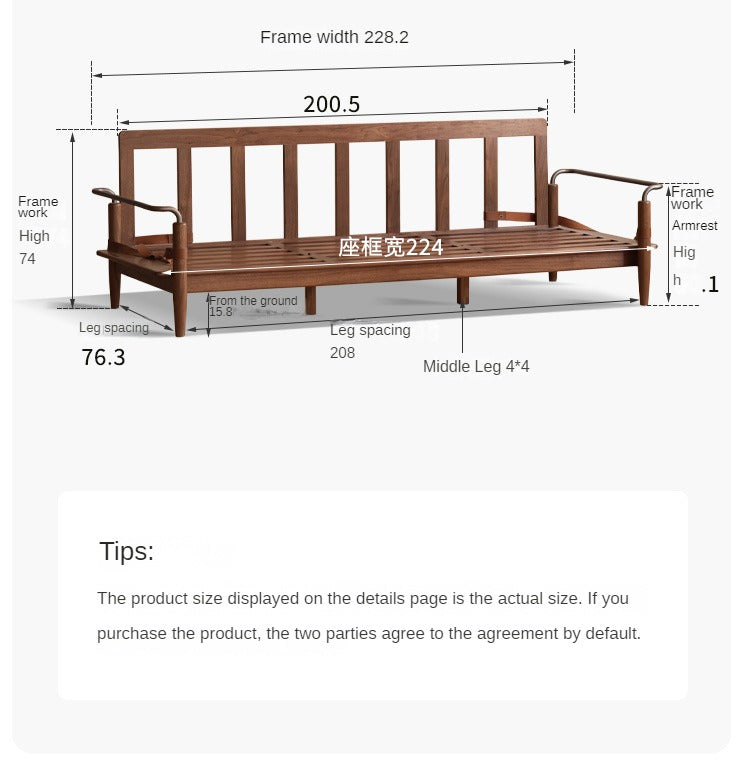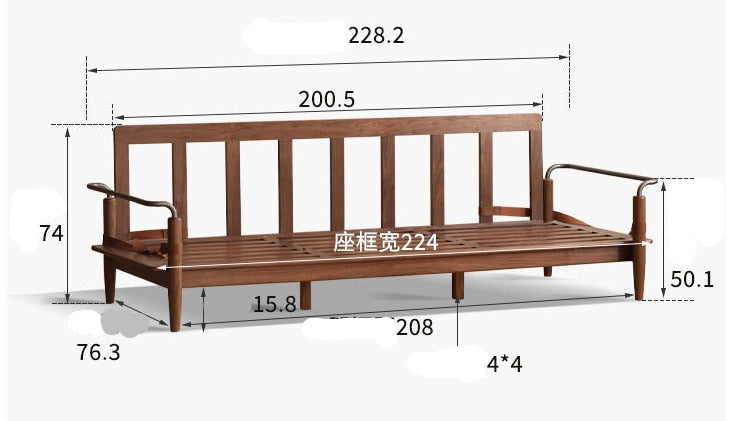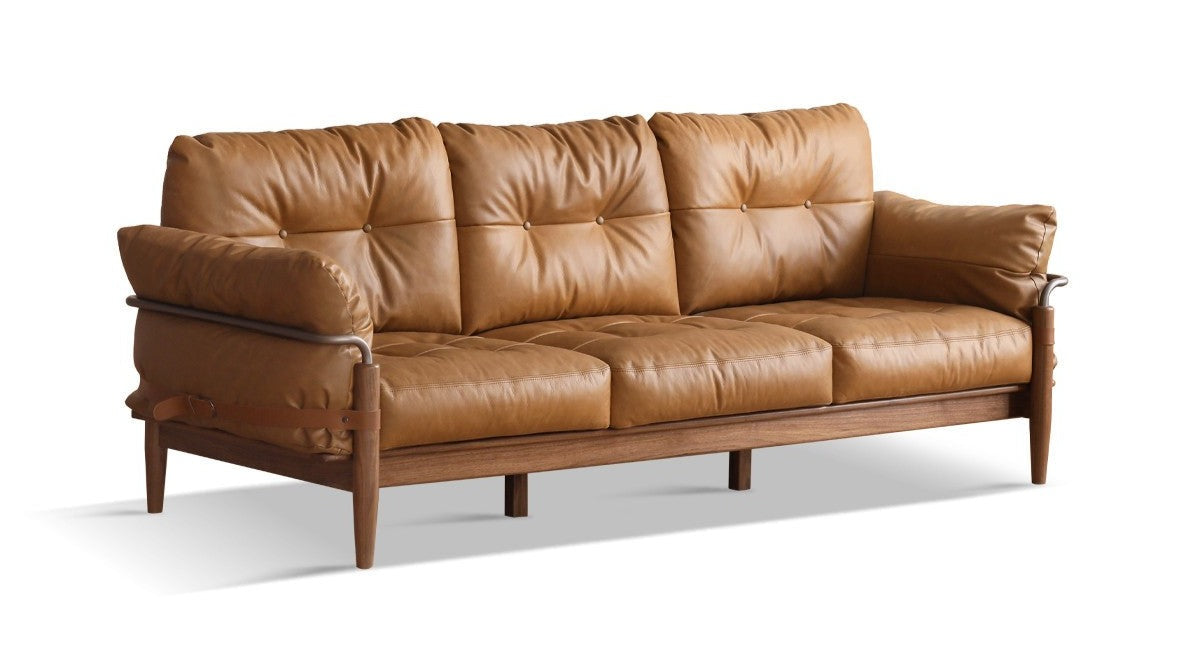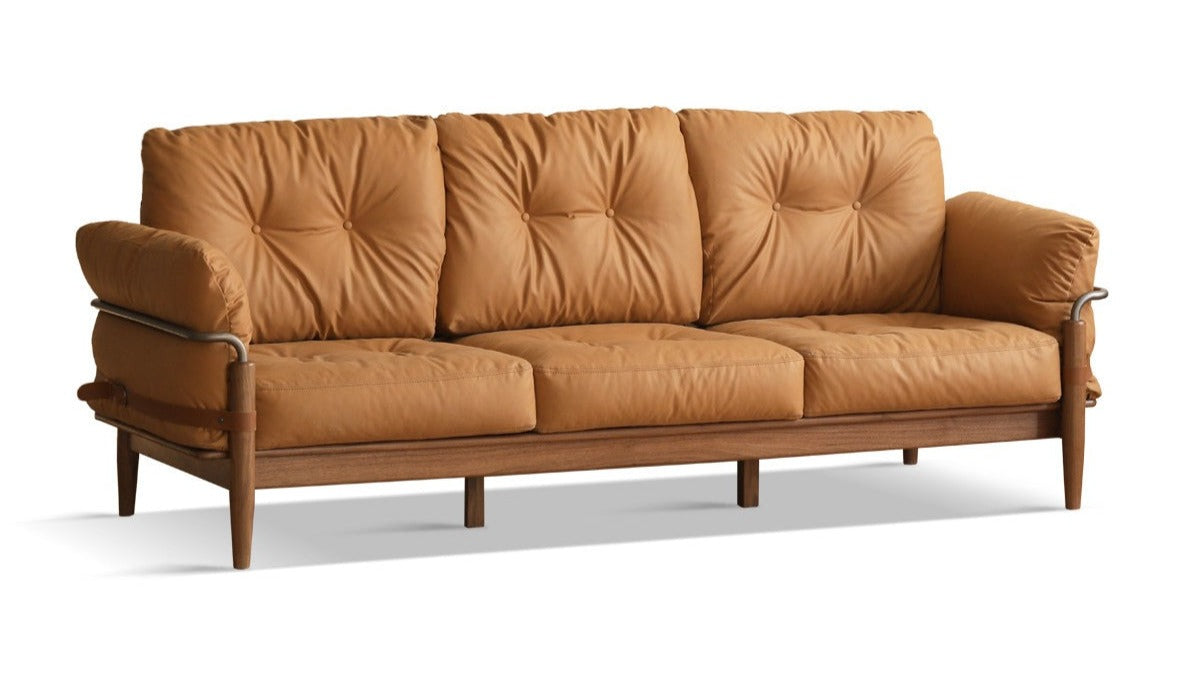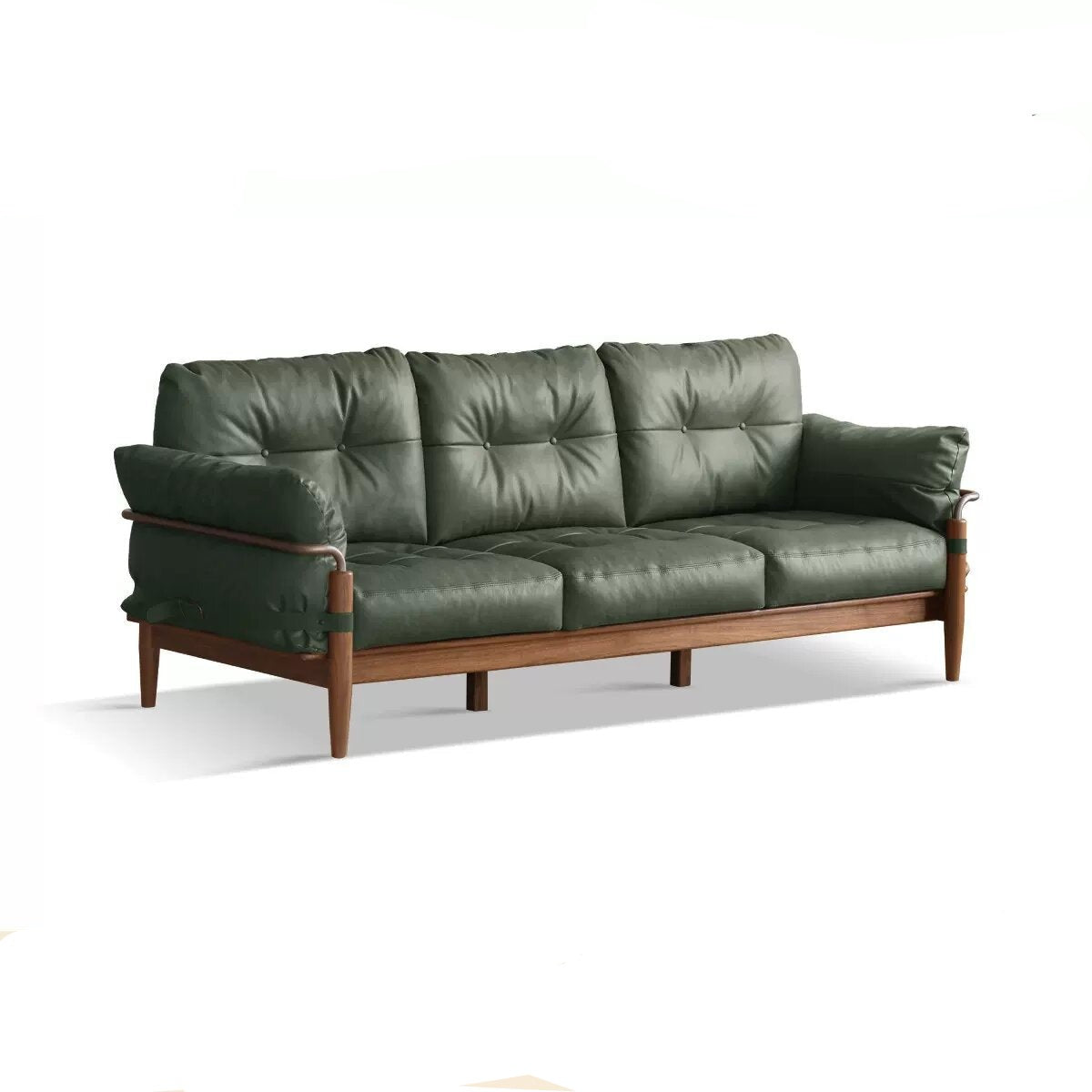 Black walnut solid wood Leather sofa"
---

Bring the retro sofa from the old movie home to create a living room full of nostalgia Black walnut and tan combined with deep drawing points Retro and fashionable Get it, become a home blogger in seconds

Retro color contrast makes the space have its own temperature The combination of black walnut and tan upholstery gives the sofa its own retro feeling. It is a low-key and reassuring comfort in the living room, and it is a perfect finishing touch.

You can lean on the armrest and turn into a small bed in seconds Goose down filled soft bag, soft and comfortable, just like a pillow, the appropriate arc angle is more suitable for the cervical spine, it is a bed when you lie down, and you can sleep deeply even when you take a nap.

Spacious and deep seating, comfortable sitting position, comfortable reclining, wanton sleeping position.

42cm sitting height with legs hanging naturally The sitting height of the sofa is consistent with the height of the knees of the human body after bending. After sitting down, not only the feet can touch the ground, but also the line of sight and the focus of the TV can be kept horizontal and focused. Starting from the legs, the pressure on the body is relieved.

two fabrics
Selection of waxy leather, smooth and elastic Select high-quality pasture cowhide from more than a dozen top-layer yellow cowhide, After 108 complicated processes, it is made at one time. Refuse chemicals and keep natural traces. Due to technical limitations, the leather surface is only covered with a layer of film. The leather is soft, elastic, and strong.

Oily skin care tips Daily Dust: Wipe off with a clean soft cotton cloth. Slight scratches: Gently touch the fingertips to make it repair itself, and then smooth the scratches with cotton cloth General Care: Wipe the leather with a cleaner and cream specially formulated for oiled and waxed leather.



Goose down filling, soft and elastic Selected high-quality fine goose down, with lighter smell and better softness, Bring a comfortable sitting experience. Backrest filling: doll cotton + down
North American Black Walnut: precious wood species, FSC®-certified.

Depending on the light and time, the core material's hue can range from reddish brown to dark brown.
Only wood with really deep colours, like black walnut, will have a golden shine.
Black walnut has an uneven texture and distinctive black-gray lines that are caused by the significant temperature difference between day and night in the Appalachian Mountains and the severe winter.
There are six different types of grains in black walnut: wavy, mountain, straight, golden birdpecking, and water drop.
It is challenging to have two different types of grains in one type of wood.
The whole product is made up of 100% pure solid wood, -without any artificial boards, -without veneer, -without spliced ​​boards, all natural.
finished with our nourishing natural vegetable wood wax oilbotanical formula, from soybean oil,which protects the timbers and reveals it's natural texture.
the texture of black walnut there are many infiltrating bodies in the catheter, which is very easy to absorb wood wax oil.
After painting it feels silky and smooth, and the texture of the wood cell catheter can be thouched.
the surface is shiny and more precious.
Our furniture is 100%FSC®-certified wood from forests that are responsibly managed to be environmentally sound and socially beneficial
By choosing FSC®-certified furniture, you are supporting responsible management of the world's forests.
An additional material is paulownia wood, which is used only for the inner panel of the drawer. (for some products)
Corrosion resistance, wear resistance, high temperature resistance, no deformation
Free shipping 5-6 weeks , Free return


The whole product is made up of 100% pure solid wood,- without any artificial boards, veneer, spliced boards, MDF, particle board, all natural
100% pure solid wood
simple and natural, healthy and environmentally friendly, stable and durable.
This product has no reviews yet.